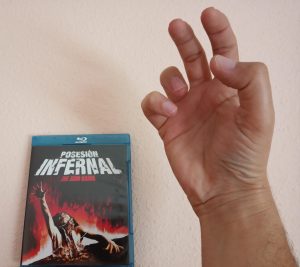 por Raúl Martínez, crítico de cine.
De siempre nos han enamorado películas, la mayoría de veces por su argumento; pero en cambio otras  fue por el cartel. En mi niñez había unas caratulas en los vídeo clubs  muy dignas. Solía acudir por el mero placer de verlas allí expuestas.  De las maravillas que me cautivaron he de destacar el film de Sam Raimi "Evil Dead. Posesión Infernal", esa mano saliendo del suelo me podía. Era una imagen que me llamaba constantemente, y  aunque pasaron años hasta que pude verla, cuando llegó el momento quedé fascinado.
La película es sin duda el ejemplo claro del talento que se debe tener para que una historia hecha con pocos medios consiga convertirse en una película de culto. Además era arriesgada ya que al tener dosis de comedia fácilmente podría haber caído en el abismo de lo absurdo.. Aun así Sam Raimi apostó fuerte. Esa seguridad se la dio un cortometraje suyo "Within the Woods", lo rodó con sus amiguetes y el resultado no fue tan mal ya que se proyectaba como aperitivo antes de las sesiones de The Rocky Horror Picture Show en un cine local. Pese a eso Hollywood no llamaba a su puerta y decidió junto a su hermano Ted Raimi y sus colegas Robert Tapert y Bruce Campbell (protagonista del film) jugarse sus ahorros llevándolo al formato largo. No tuvo reparo en pedir a negocios locales participaciones en el filme.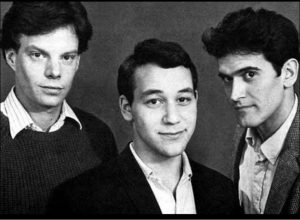 Al igual que muchos otros maestros del terror, el joven Raimi estaba marcado por los relatos de H. P. Lovecraft, es por eso que el primer título barajado fue Necronomicón en honor del presunto pero siniestro volumen de arcano. Pero por culpa de nuestro Jesús Franco no se pudo ya que usó ese nombre para uno de sus filmes. Otro título pensado fue "El libro de los muertos" hasta que uno de los mecenas le recordó que ningún adolescente iría a ver una peli con la palabra "libro". Al final se optó por Evil Dead (Los muertos malvados),  y en España fue como la conocemos Evil Dead. Posesión Infernal.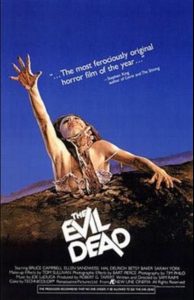 Pero la atracción del filme insisto, por lo menos por mi parte, era el cartel, prometía lo que ofrecía. Y hablando de carteles de películas, claramente se puede ver un cartel de la película de Wes Craven "Las colinas tienen ojos", esa idea no era otra que dar a entender que esta película sería más terrorífica que la del maestro Craven. Este a su vez también lo hizo en la mencionada película, pero utilizando un cartel de Tiburón de Steven Spielberg.
Una de las escenas más curiosas es la de un ataque sexual de un vegetal poseído. En el guión solo estaba escrito "los árboles atacan a Cheryl" pero el director decidió darle otro enfoque convirtiéndola en un momento cumbre del film, eso le acarreó que dicha escena fuera la más censurada de la película en varios países, acusándola hoy día de denigrante para las mujeres, obligando a Raimi a hacer declaraciones arrepintiéndose de haberla rodado por ser demasiado brutal. Aún así permitió que se repitiera en el remake. Un servidor cree que hay que dejarse llevar por este tipo de películas, no deja de ser un divertimento para los fanáticos del terror, donde las emociones están presentes en el espectador, en ningún caso se piensa en desatar polémicas.
Como dato curioso en el montaje uno de los ayudantes tenía el apellido Coen, sí, en concreto Ethan Coen, tanto director como protagonista entablaron una amistad con los hermanos Coen y ayudaron años más tarde con la financiación de "Sangre fácil".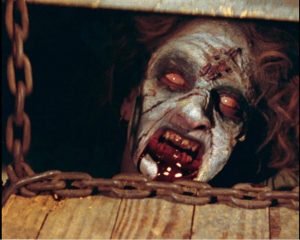 Para los que soñamos con dirigir alguna vez y no tenemos medios, siempre recordaremos esta cinta, y la receta de la sangre: jarabe de maíz, sucedáneo de crema para café y colorante rojo, ingredientes que hicieron que el rodaje fuera de lo más sangriento, aunque para algunos espumarajos se usó leche semidesnatada. Fueron 12 semanas perdidos en los bosques, sin poder ducharse, quemando muebles para combatir el frío y a merced de un director demente. Justo diez años después la cabaña donde rodaron se incendió en su totalidad.
Tras el rechazo de las distribuidoras en EE.UU. el mecenas que aconsejó a Raimi cambiar el título, Irvin Shapiro, era distribuidor de películas como "La noche de los muertos vivientes" y amigo de grandes directores, entre ellos Kubrick, y consiguió que la cinta se proyectase en el Festival de Cannes, fuera de concurso. Y uno de los espectadores que allí se encontraba para presentar en el festival su cinta "Creepshow", Stephen King,  quedó maravillado y la calificó como "el filme de terror más original de 1982" dedicándole una entusiasta reseña en la revista "Twilight Zone".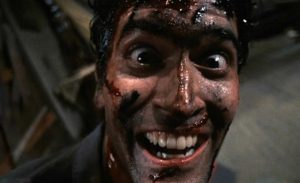 Parece que el karma ha estado envolviendo esta historia en su manto y consiguiendo que en ningún caso se tirara la toalla, a pesar de que los actores terminaron el rodaje sin muchos ánimos. Los años han puesto esta joya en el lugar que le corresponde teniendo incluso una versión musical. Sí, en 2003 en Toronto (Canadá), Evil Dead. The Musical, una revisión bailarina y cachonda de la historia, con canciones ¡y un alce que hablaba!.  En 2012 llegó a España el musical teniendo buena crítica entre los seguidores, con canciones tan dispares como "¿qué coño ha sido eso?", "El baile del Necronomicón" y "Todos los hombres de mi vida acaban poseídos por demonios kandarianos", son espantosamente buenas.
Para los que creemos en el cine, en el terror y sobre todo en contar nuestras historias prácticamente sin presupuesto, siempre pensaremos en Evil Dead. Una película terrorífica y divertida.